Name: Ashley

"Brie"Wike

Nick Names: Baby Girl, Ash, ShorTay, Ashy, Minty, Peppa, Tallahasse Suga, Suga Momma,LiLMissMatrix,LiLOne(<--eww),Da Crazy Hot Gurl

Birthday: June 8, 1983

Birth Place: Cape Fear Vally

Location: Fayetteville NC

"Da Ville"

Nationality: African American / Indian (I still tryna figa out what happen to "good hair" Cuz I sho nuff ain't got it)

Siblings: 1 brother Ronnie , two little sisters twins (Amber & Alyse)

"Other siblings"

Mac- my big bruva. He go to ECU. Love ya Maccie. Jigga can dance!

Carlos"Los"- my other big bruva. He really be looking out for me. He said that if I'm down here acting fast he gonna woop my tail.

Stacy- I really don't know what category to put him in so I'll leave him here. Althouhg he is my Suga Daddy (*wink*)

School/Grade: That Cape Fear High School , Class of 2002 ( da best )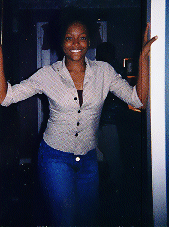 Status: Kinda Sorta with That Matrix right now (wink)
Personality: Out going, perky, hyper, flirty, sporty, lazy, up for risks/dares, loud, giving, & fun(igcognito freak but don't tell my momma or Los)
Stufisis to do: Singing( with talent or lack of) , dancing, shopping, hanging out wit dem Hot Gurlz at the skating rink and with them Hot Boyz in Godwin. Skating, writing, being Ash dat "Godwin" girl.
Favorite Colors: Tantalizing Blue, Sexy Red, and Suga Brown (ya'll like dem adjectives don't ya?)
Favorite Movies: The Wood, Friday, The 7th Sign, The Little Mermaid, The Prince of Egypt, What's Love Got to Do with It, Dirty Dancing.
Favorite Songs: "Stay"- Destiny'z Child "Your Love is Incredible"- Sisqo "Thong Song"-Sisqo "The Beautiful Ones" Mariah Carey & Sisqo "BlackOut"-Red & Meth " Creep Inn" Ideal "Always Be My Baby" Mariah Carey "On & On" Erykah Badu.
Favorite Music Artists: Mariah Carey, Sisqo, Destiny'z Child, Red & Meth, Whitney Houston, Brittany Spears, Christina Agliraia ( howeva you spell) , N'Sync, DMX, NAs, Jay-Z, Tamar, Missy, Nicole, Celine Dieon, Ideal, Dru Hill, Eminem, Dr. Dre, Erykah Badu.Vita,Ja Rule,Rah Digga, Busta Rhymes,Eve,Redman, Method Man
Hot Gurlz: Samantha, Tiffany , Gina, Toya! These are my gurlz for life. I don't know what I would do without them! I love you guys. You are always there for me. Even tho you call me out ( TOYA & TIFFANY) I forgive you! Dem Hot Gurlz Hot Gurlz~
Sayings ( Hot Gurlz& Hot Boys)-
Aww Shut Up!
Thong Thong Thong! ,
That's a slap,
My Sunshine has come UHH UHH,
That's not cute miss,
Cut up,
I like daaat ,
Ya'll slepping on it referes to whatever ya talking bout )
Ya'll don't know nuffin bout this.
Thank You Please!
Say Do What?
You to BE to BE acting like that!
Mello Yellow ain't cha cuz? This is that Godwin Summa 1999 Winter Break 1999 Skating Rink2000 stuff.

Our Hot Boys: (most of them in Kode) : J-Y Kelly, El Deleon, Law books, Ken Griffy Jr, Ant-man,Monday,John,The Matrix,Kirby Toys,TnT,Lonnie,Chris,Marcus,John,Stacy,Mac,Carlos,Juan,Domonic,Jovie,D-man.